Lighteme Handpan Drum Overtones Key 18 Inch 6 Notes (G3/C4/D4/E4/F4/G4) - Stainless Steel Antique Brass Hand Pan Percussion Instrument
Regular price
$298.99 USD
Regular price
$488.00 USD
Sale price
$298.99 USD
Unit price
per
Lighteme Handpan Drum Overtones Key 18 Inch 6 Notes
Hand pan

 

is a musical instrument in the idiophone class.
It is constructed from two half-shells of deep drawn, with hollow inside and in the shape of a convex lens.
The top ("Ding") side has a center 'note' hammered into it and several 'tone fields' hammered around the center.
The bottom ("Gu") is a plain surface that has a rolled hole in the center with a tuned note that can be created when the rim is struck.
No need any musical background, beginners can play melodious music also.
Friendly Reminder:

 

Before shipping, we will send you a tuning video about your ordered drums for your confirmation, please rest assured to buy.
STAINLESS STEEL
Stainless

 

Steel has recently become quite popular in the construction of handpans for several reasons.
Firstly, a handpan made from stainless steel will generally have notes (tonefields) with more sustain (they will 'ring' longer). This characteristic lends a stainless steel handpan towards a more meditative and slow style of play.
The feel of the handpan while playing is also noticeably different as well. When striking the notes, it is apparent that the stainless steel is not as robust as nitrided steel and thus feels less 'springy' under the hands of the player.
The tone is brighter and softer.
Features

18 Inch Hand pan, a musical instrument in the idiophone class, adopts the principle of Helmholtz-resonator, with stable tone and beautiful sounds.

6 notes design, 1 center note and 5 tone fields (G3/C4/D4/E4/F4/G4), no need any musical background, beginners can play melodious music also.

High-quality alloy steel material, heat-treating surface, durable and anti-rust; Manual tuning by professional, all notes have perfect resonance vibration.

Generally played with the hands and fingers, producing softer and warmer sounds; Ideal for street performances, festival celebration, Yoga, sound healing, etc.

Comes with a carry bag that is dual zippers closure and shock-proof design, you can carry the hand pan with you during traveling.
Specifications

Material: Stainless Steel (Heat Treatment Process)

Applicable: 

B

eginners

Tone: Overtones - 6 (G3/C4/D4/E4/F4/G4)
Intonation: <±5 Cents

Size: 18 Inches

Color: 

Antique Brass, 

Purple

 (There may be chromatic aberration due to the light problem of the shooting, please understand.)

Item Size: 45 * 22cm/ 18 * 8.7in

Item Weight: 2.2kg / 4.9lbs / 77.6oz
Package List

1 * Hang Drum

1 * Carry Bag

2 * Mallets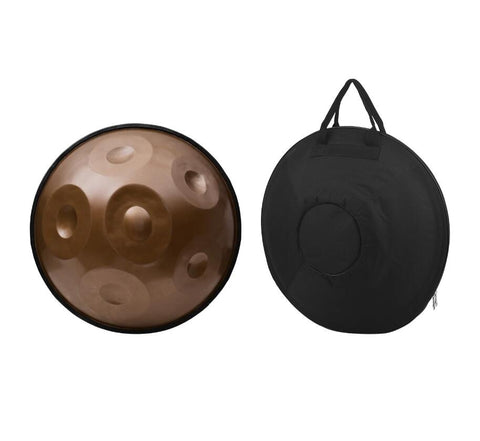 Share